\
Rode loper première Beatuiful Disaster
In een bomvol Koninklijk Theater Pathé Tuschinski ging deze week Beautiful Disaster in première in aanwezigheid van de Amerikaanse hoofdrolspelers Dylan Sprouse en Virgina Gardner. We waren verantwoordelijk voor zowel de gastenlijst als de begeleiding op de rode loper. Met ruim 650 aanwezige influencers en BN'ers én een vol persvak langs de loper werd het een magische avond. We bereikten maar liefst 24,5 miljoen mensen op TikTok en ruim 11 miljoen mensen op Instagram!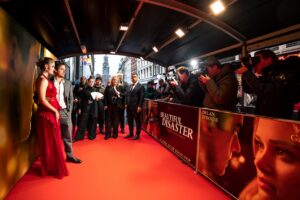 De hoofdrollen in Beautiful Disaster worden vertolkt door Dylan Sprouse (bekend van de After-franchise) en Virginia Gardner (Fall, All the Bright Places). Naast hen zien we onder meer Brian Austin Green (Beverly Hills 90210), Autumn Reeser (The O.C., Entourage) en Rob Estes (Melrose Place, 90210) in belangrijke rollen.
Abby (Virginia Gardner) doet haar best om haar duistere verleden te vergeten. Ze gedraagt zich dan ook voorbeeldig: ze rookt of drinkt niet, vloekt niet en zorgt dat ze haar zaakjes altijd goed op orde heeft. Wanneer ze als eerstejaars aankomt op de universiteit wordt haar kans op een nieuw leven al snel gedwarsboomd door Travis (Dylan Sprouse), die daar bekend staat als Mr. Onenightstand.
The Searchers brengt Beautiful Disaster op 6 april uit in de bioscoop